Want to be more informed about how you can help your child when they are struggling with substance use?

You are ready to stop feeling scared because you never know when the next shoe will drop.
You wish that you could learn how to be supportive without enabling when your child is struggling with drugs or alcohol.
You would love to shorten the learning curve so that you can help your child in a way that has more of a chance for a positive result.
I'm glad you are here. Welcome! I'm Cathy Taughinbaugh. I coach moms and occasionally dads on how they can help themselves and their children when they are struggling with drugs or alcohol.
I believe that parents struggle intensely when their kids are using. Their anxiety and stress may go on for months, even years. As a coach, I can help you get lazar focused on what you can do to help yourself first which will in the end, will help your child. My goal is to help you spend less time in a panic, shorten the learning curve, and feel more centered.
Check out the Is This You? page to see if you can relate to any of the descriptions.
I believe that kindness and positivity, not confrontation and punishment can help motivate your child to seek change. Parents and family members play a meaningful role and can influence the outcome. I believe in facing our truth and raising the bottom so that your child has a better chance at life.
I believe that coaching can make change happen more quickly. Rather than trying to decipher many confusing options, you can gain clarity on what will be best for your situation.
How Coaching Can Help
You don't have to struggle alone! 
If you are not clear what coaching is about, or whether it can be the right next step for you, you are not alone. There are many who are a little fuzzy about what coaching is all about. Parents are their children's first and most important teachers. When your child is struggling, finding a coach who can help you make sense of the struggle can help you have greater understanding and clarity. This helps you and your child reach positive change in a shorter amount of time.
Connecting with the right coach can empower you as a parent. Coaching can help with life strategies and life direction. It is solution-focused, strength-based collaboration between coach and client. I help you make better decisions and have more clarity about next steps to start the healing process for you and your family. I believe that my clients can use their inner strength to find their way.
The positive change that you want to see in yourself and your child can happen!
With coaching your life will improve in these 5 ways:
Enhance your understanding of your current reality.

Feel more confident as a parent now and in the future.

Have more clarity about the power of positive communication.

Embrace the circle of self-compassion.

Self-care is encouraged for a healthier you.
What type of Coaching Would Be Right For You?
1. Parent Coaching
In this coaching program I teach you proven strategies to stay involved with your struggling child in a positive way that helps them be more motivated to change, talk to your child so that you are more likely to be heard, and take better care of yourself.
Who is this for? This is for highly motivated mothers or fathers who are determined to figure out how to better help themselves, are ready to help their struggling child, and are interested in having concrete research based tools and strategies that work!
Supporting you is my mission!

2. Support Group
In this support group, you will receive weekly tips and inspirations, have access to a private support group, and have a monthly conference call where we will discuss the topic of the month and give you a chance to voice your concerns about your situation.
Who is this for? This is for moms of kids who are struggling with drugs or alcohol who want to stop feeling helpless, anxious and worried so that they can feel in control and get their life back on track.
Register today and join us!

Parents to PhDs: 28 interviews with people who share heartache, wisdom and healing from first-hand experience with substance use disorder
101 Natural Highs for an Amazing Drug-Free Life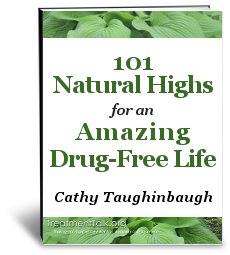 Download the FREE guide today so you can take control of your life again and live with less worry or stress and more compassion and optimism.

plus download the free: 

PARENT'S GUIDE TO

Putting Your Oxygen Mask on First Recovery

when your child is struggling with drugs or alcohol

How the Powerful CRAFT Approach is Saving Lives: Meet Bob Meyers
I'm honored to introduce Robert J. Meyers, Ph.D., founder of the Community Reinforcement and Family Training or CRAFT approach. In this interview, Dr. Meyers explains the CRAFT approach, why CRAFT can make a difference for families, and introduces the new Parent CRAFT online program.[…] Read More
There is always Hope: Meet Denise Mariano
I'm thrilled to share my interview with my friend and fellow parent coach, Denise Mariano. I love her enthusiasm and devotion to the cause of substance use prevention and support. […] Read More
CRAFT Can Help Your Family Change: Meet Dr. Jeffrey Foote
Dr. Jeff Foote, Co-Founder and Clinical Director of the Center for Motivation and Change, and his inspiring colleagues, conducted a life-changing training in New York.
Eleven parents gathered together to learn more about Community Reinforcement and Family Training (CRAFT). I'm thrilled to share this interview, because […] Read More
3 Powerful Ways to Lean In Rather Than Let Go When Your Child is Struggling
Letting go and detaching may have their place when you feel that you've done all you can do, or if your health is in jeopardy, but there are many things that you can try first before you take that big step.
The problem with letting go too soon is that […] Read More
Testimonials
"The positive reinforcement and staying connected to my child has been the BEST advice I've heard. I've never been told this before connecting with Cathy, but it immediately resonated with me where as all of the other advice did not."
– Amelia, a mom from Florida
"Cathy gently lead our parent group in a guided process of individual sharing and listening to one another.  Guided by the week's theme and through a series of insightful questions from Cathy, we were encouraged to respond one by one, voluntarily.  Through this process, we came to a broader sense of our shared situations, and a sense of a personal path forward.  Cathy's optimism infused the meeting with a sense of hope."
– Mary, a mom from Pennsylvania
"I found Cathy's group coaching sessions to be really helpful. Cathy's comments were insightful as well as compassionate, and the opportunity to talk with other parents in the same boat was invaluable. I felt that it helped my family a lot."
– Martha, a mom from Massachusetts
To learn more contact Cathy via the contact page.