Parents to PhDs: 28 Interviews With People Who Share Heartache, Wisdom and Healing

I'm happy to share my new e-book, Parents to Parents to PhDs: 28 Interviews With People Who Share Heartache, Wisdom and Healing From First Hand Experience With Substance Use Disorder.
The purpose of the e-book is to give information, ideas and solutions that will help you move your life forward to a better place.
My experience with substance use has been life-changing. I have learned to face and accept the truth of my life and to move forward to a place of healing, growth and inner peace.
Though the years of writing online, I had the distinct honor of interviewing a number of people who have the courage to share their experiences in order to help others. People feel less alone when they are able to connect with others who have been in the same situation or can provide information and support.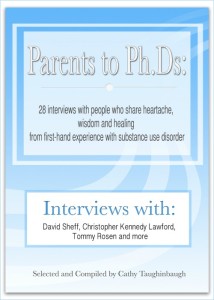 It can take just one story or piece of information to make a difference for someone who is looking for answers. The interviews here share a variety of opinions and experiences about substance use. My hope is that you find something that resonates with you and can lead you to a better place.
To just name a few, Lisa Fredericksen talks about the brain science behind addiction and Shelley Richanbach shares the thinking behind her inviting studio for women located in the San Francisco Bay area. Dr. Herby Bell uses the wisdom from his personal and family experiences to help others.
Dr. Jeff Foote shares the life changing tools and strategies of CRAFT for parents and family members that he has found to be so helpful. Greg Williams contributes his story of recovery and his amazing video, The Anonymous People. Mark Matthews, marathon runner, gifted writer and addiction counselor shares tips that changed his life.
G-Na Casazza tells her family's story about the impact of one person's decision to drink and drive. Tommy Rosen shares how he embraced recovery to become a well-known yoga teacher and creator of Recovery 2.0. I was also thrilled to share the stories and tips from Beth Wilson, my wonderful editor and Becky Vance who I met via the Partnership at Drug-Free Kids.